MY CUSTOMER EXPERIENCE ISN'T GOOD ​
A Poor Experience Leads to Poor Results
2 in 3 consumers say that experience
is more important than price.
The impact of customer experience on dealership results can't be overstated. Two-thirds of consumers say they would pay more for a great experience. And yet many dealerships are still falling short; only 36% of consumers are satisfied with their dealership.
Source: 2020 Cox Automotive Reimagining the Customer Experience Study
Fail to acknowledge shoppers' online work, take too long to answer their questions, or otherwise give customers a bad experience, and they will go elsewhere.
Dissatisfied customers will leave you with poor reviews and CSI scores, which can wreak havoc on your dealership's reputation with OEMs and the community.
Declining Customer Loyalty
Customers who had a bad experience aren't likely to come back, and acquiring a new customer is anywhere from five to 25 times more expensive than retaining an existing one.* 
returned because of a good experience
More than four in 10 of new car buyers returned to buy from a dealership solely because of their prior good experience with that dealer.** 
With the right dealership processes and sales tools, your dealership can provide the streamlined, personalized car-shopping experience your customers expect—boosting efficiency, productivity, and, ultimately, profitability.

Solution
Vinessa Virtual Assistant
Help salespeople help customers with AI.
Assist customers more quickly and consistently with automated responses, appointment setting, and task scheduling.
Use Vinessa's artificial intelligence and dealership data to automate responses to customer questions.
Meet customers where they are with a full readout of Vinessa's communications in the CRM.
Solution
Connect Automotive Intelligence
Personalize the buying process with insights.
Meet customers where they are in their car-buying journey—even before a lead is submitted—with data insights.
Personalize every customer interaction with accessible, individualized Buying Signals.
Accelerate the purchase process with insights on how customers are feeling about their interactions with your dealership.
Solution
Connect Desking
Streamline the buying process.
Alleviate top customer pain points—negotiation and time spent completing paperwork*** —with an intuitive, integrated desking solution.
Fully integrate desking into your sales process from anywhere, with flexibility to support in-person and remote deals from Cox Automotive Digital Retailing.
Find the best deals with unmatched accuracy from Dealertrack data.
*The Value of Keeping the Right Customers, Harvard Business Review | **2017 Cox Automotive Staffing Study | ***2020 Cox Automotive Car Buyer Journey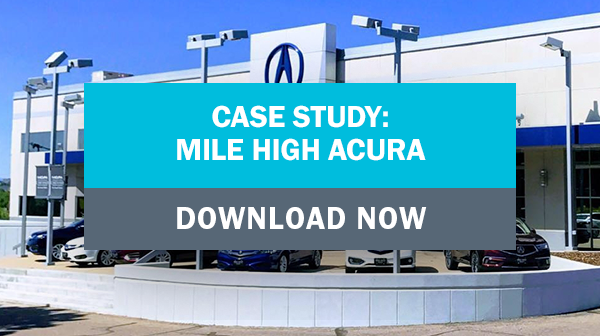 Turn Customer Data into More Opportunity
With the help of VinSolutions Connect CRM and Connect Automotive Intelligence, Mile High Acuta has been able to analyze their customer data and capitalize on every sales opportunity.
Looking to solve more challenges