The last step of a customer's experience with a dealership used to be driving off the lot with their dream car. Today, the customer journey can go beyond vehicle delivery, and can eventually loop back around to your dealership over and over again.  
By using the same tactics you used when closing each deal the first time and implementing new strategies and more advanced technology, you can create lifelong customers
Prioritize these two best practices to promote customer retention and attract return buyers.
Mine CRM Data and Track Customer Activity
You can't only rely on past experience to keep your customers coming back. You have to proactively reach out to them by using the same practices that helped you close the initial deal.
Leveraging your dealership's data and technology can help you identify in-market opportunities, including existing customers that may be ready for a vehicle upgrade. Additionally, VinSolutions Connect Automotive Intelligence aggregates data across integrated Cox Automotive solutions, including Dealer.com, Autotrader, and Kelley Blue Book, to deliver insights about customer activity and help determine when customers are ready to buy and what they're interested in buying.
Segment Communications and Automate Marketing
Today's consumers expect personalized buying experiences, but delivering the kind of personalization they expect, at scale, can be challenging without the right solution.  
Automotive Marketing Platform powered by VinSolutions lets dealers deliver personalized marketing content by leveraging specific insights from their car dealer CRM data. With the support of a dedicated Marketing Account Manager to handle the execution of marketing campaigns and strategy planning, your team can focus their time and energy on gaining more prospects and closing more deals.
Using existing customer data from Connect CRM, Automotive Marketing Platform segments customers who are most likely to buy, including customers who may be interested in trading up to a newer vehicle. For another value-add, Automotive Marketing Platform can leverage artificial intelligence to identify vehicles of interest and automatically send personalized offers that let customers start the deal process right from their phone.
The traditional car-buying experience might have hit a dead end with each vehicle delivery, but by mining CRM data, tracking customer online activity, segmenting communications, and automating your marketing, dealers can leverage insights to create a car buying experience that builds brand loyalty and creates lifetime customers.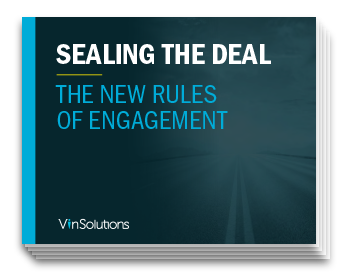 To learn more best practices and technology tips for navigating the new road to sale, check out our new eBook, Sealing the Deal: The New Rules of Engagement.  
Get The Ebook