Car shoppers' expectations for the buying experience have quickly changed this year, and today's successful dealerships are adapting their operations to meet those customer needs. In a recent CBT News interview, Jason Tropp, Director of Marketing and IT at Goodwin Motor Group, joined Mark Vickery, Cox Automotive Senior Director of Performance Management, and Chase Abbott, Cox Automotive Vice President of Sales, to discuss how his dealership has implemented digital retailing to adapt to changing customer expectations. Here are some highlights from the discussion.
Mark Vickery: Recent Cox Automotive studies have shown that more customers want to buy a car via an Amazon-like shopping experience. 89% of shoppers want to do at least some of the purchase process online, and 64% of shoppers want to do more of the purchase online compared to the last time they purchased a vehicle, according to the 2020 Cox Automotive Consumer Impact Study.
But I feel like it is more important than ever to support customers who want a traditional buying experience, as well as the shopper who wants a hybrid version of a digital shopping experience. How do you make sure your customers know the buying options available to them?
Jason Tropp: I couldn't agree more with you. The sentiment of wanting the Amazon experience is very true today, especially in light of the pandemic. More people are shopping from home, either by force or out of leisure. I think the first thing is really communicating to the customers what the process is.
It is a fairly new thing for a lot of dealers. Our group has been doing it for a little over two years, so we've had some time to refine what we're doing and try a couple different tools. But really communicating to the customer that the online shopping is there, and also having a well-trained staff to back it up, are really the keys to making it work.
Chase Abbott: Online shoppers are more educated than ever before, and they really dedicate a lot of time to researching their potential purchase. If they are reaching out to you, they probably put in a lot of hours to get that point.
Because of this, it is important to acknowledge the customer's journey and how much work they've already done. In today's digital-first environment, how do you go above and beyond to make sure your customers have that personal, productive sales experience?
JT: Once you have a digital retailing tool in place, you need a very active communication tool to help supplement that. You can't just put up the tool up and hope that the leads will work and that people will know what they're doing.
It's a big purchase. There are a lot of steps to buying a car. Car buying is not quite the Amazon experience that we talk about because Amazon is buying a smaller product usually, something you don't need to finance. Once you bring in these more complicated processes, you really need to be able to support customers.
You have to a have good digital retailing tool and a good real-time communication tool on the website, so if someone needs help they can reach out immediately with questions. Centralizing your knowledge base can also be helpful. At Goodwin, we use a centralized BDC. For all five of our locations all that knowledge for online interaction really is owned by the BDC. They have been trained up and they're doing a great job making sure everyone's handled wherever they are in the digital retailing process.
CA: What advice do you have for dealers who are considering implementing a digital sales experience?
JT: I can't stress this enough: Take it a day at a time, and work through the process. Signing up for a product, putting it on the website, and saying "go" is not going to work. Find a company you're willing to partner with that you feel you'll have strong support from, and really hold them to task. If you don't, you're just buying the shiny object and hoping it is going to work. And we all know how that works most of the time. Just take it a day at a time, one step at a time, and stay focused.
This interview excerpt originally appeared on CBT News Dealer Forward. Watch the full video interview here.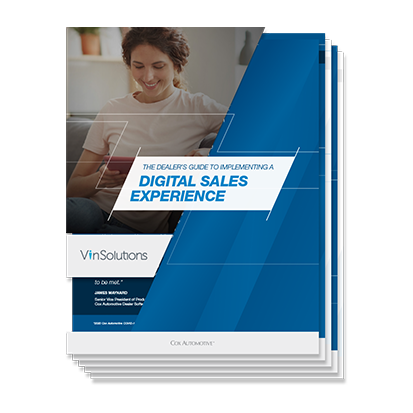 "How do I implement an entirely digital car buying process?"That'sthe million-dollar question for dealers right now. Whenyou'redone with this guide, you'll have the answers.
Download Now