When you asked your sales team to be a lean, mean car sales machine, you never envisioned the lean, mean inventory shortages that have persisted in automotive sales in 2021. AutoForecast Solutions predicts that there will be 1.5 million fewer vehicles available in North America this year—a problem not even the best sales teams can solve. As you move away from traditional sign-and-drive sales strategies, consider implementing the following practical sales approaches that benefit the current state of the industry.
The Pre-Order Approach
You don't have to have a car on your lot in order to sell it. Your team can still take sales orders, not unlike the pre-orders so many other industries (the tech industry, in particular) have made so popular. Instead of focusing on the lack of inventory or the long wait times, train your sales team to sell cars as built-to-order opportunities that empower buyers to create new vehicles according to their exact specifications. This approach creates excitement to buy and gives your customers a more personalized car-buying experience that's worth the wait.
The Pre-Owned Approach
Your dealership has likely already seen the benefit of shifting from selling new inventory to used inventory, but so has every other dealership, which only compounds the inventory shortage challenge. As your sales team shifts its focus to sell more used vehicles, it's important to find creative ways to source pre-owned cars. Start by reviewing your dealership's past sales and service customers to find those who come in for frequent repairs, those who may have equity in their current cars, or those with lease terms coming to a close. This strategy can help you increase your pre-owned vehicle inventory and create new sales customers.
The Service-to-Sales Approach
Your service department is also a great place to find pre-owned vehicles that people want to buy. Train your sales team to pay special attention to those service customers who come in with highly sought-after makes and models, and be proactive about making offers to these customers. Leverage your CRM to find upcoming service appointments that can tip off your team to potential new buyers and sought-after acquisition opportunities.
Conclusion
Even in a lean inventory environment, your lean, mean sales machine can still churn out sales—it just has to be a little more creative in its approach to sourcing and selling cars. To learn more strategies for thriving in the current state of car sales, check out our free Lean Inventory Playbook.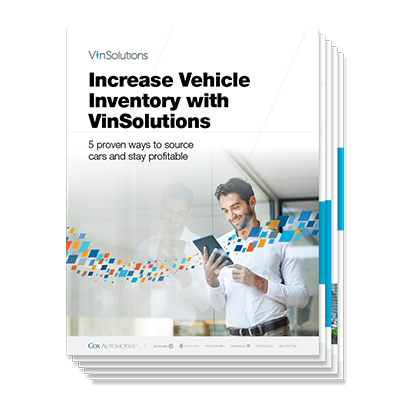 Lean Inventory Playbook: A practical guide for aligning dealerships strategies with inventory shortages
Download the Playbook