Check out the latest VinSolutions product news and updates to help you make the most of your products and help your dealership succeed.
FordDirect Approves Consumer Data Use for Cox Automotive Solutions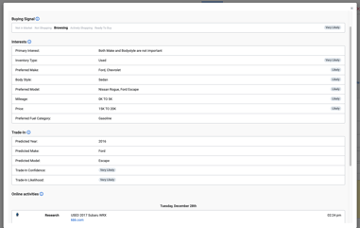 FordDirect has recently agreed to allow the retrieval of consumer insights from dealerships' websites using Pixall. This consumer data is utilized through VinSolutions Connect Automotive Intelligence and Automotive Marketing Platform powered by VinSolutions to provide dealers with real-time insights to further improve the car buying experience for their customers through personalization. Benefits to this update includes:
Ability to see online activity for customers on FordDirect website
Increased Buying Signals for FordDirect dealers
More accurate overall Insights for Consumers
Tasks generated for FordDirect dealers based on online activity
To learn more about this enhancement, contact your Performance Manager for details.