Check out the latest VinSolutions product news and updates to help you make the most of your products and help your dealership succeed.
Quick Tip: Sourcing Inventory in Service Appointment Dash
Clients who use Dealertrack, Reynolds and Reynolds, CDK or Auto/Mate DMS can automatically pull service appointments into Connect CRM. Filter by make, model and estimated equity to 'shop' for frontline inventory.
Maximize Customer Lifetime Value with These Best Practices
Chase Abbott, Vice President of Sales for Dealer Software at Cox Automotive, sits down with Automotive News to talk about using data at scale to combat the challenges that dealers are currently facing.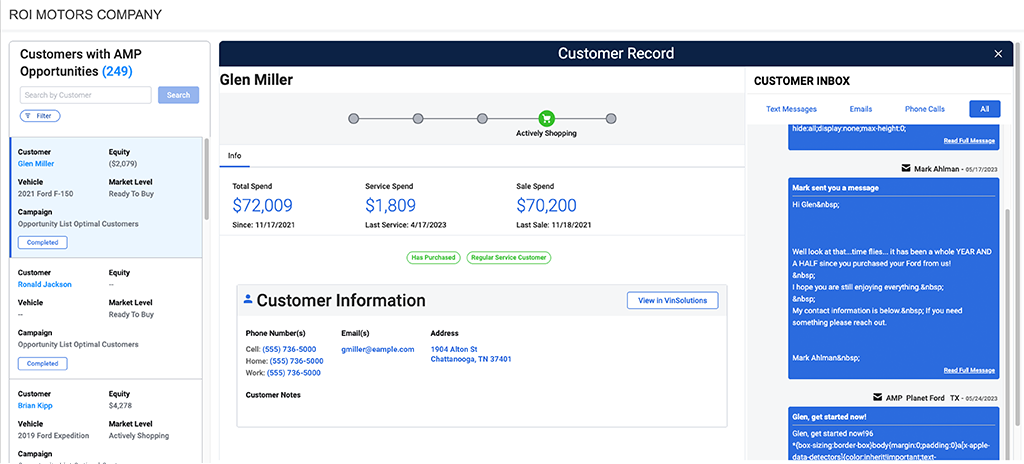 All Customer Communication, All in One Place
The new Customer Inbox is available through Automotive Marketing Platform's Opportunity List that was released earlier this year. The Customer Inbox combines all communication across phone, email, and text messaging into a single location.
Dealers can benefit from having everything in one spot, and quickly engage with customers through their preferred means of communication and reduce shuffling through screens
Keep Your Customer Communications in One Place with the New Customer Inbox
Tired of jumping around different tools to manage emails, texts, and phone calls with your customers? The new Customer Inbox, now available with Automotive Marketing Platform, consolidates all your customer communications into one place, making it easier to connect with your customers and see conversation history across multiple channels.
Prepare for Your Quarterly Meetings with New Enterprise Marketing Reports
Newly enhanced reporting for Automotive Marketing Platform now enables dealer groups with up to 20 stores to view rolled up marketing reports. This enterprise view helps you streamline the process of preparing group-wide reports, and enables you to quickly evaluate performance across all of your rooftops.