Check out the latest VinSolutions product news and updates to help you make the most of your products and help your dealership succeed.
New Insights Report: Team Performance Dashboard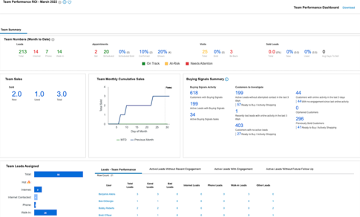 A new insights reporting dashboard is now available to all VinSolutions dealers. The Team Performance Dashboard is a new one-stop shop for managers, providing a centralized view for evaluating overall team performance.
Enhancement features include:
Glanceable information: Quickly determine if your team is on track with multiple visualizations
Drill down details: Drill into key data points for further insights
Team numbers: Set monthly targets with a data panel
Create versions and scheduled reports: Set up a report for each of your teams and have them emailed to you on a recurring basis
Report type filter: View data with a Salesperson or BD Agent focus
To learn more about this enhancement, contact your Performance Manager for details.