In most dealerships, inventory management is a reactive process. Inventory becomes available, and dealers react by deciding whether that vehicle is a good choice for their lot. But with today's shrinking margins and plateauing new car sales, today's most successful dealers are leaving reactive inventory management behind. Today's most successful dealers are taking a proactive approach.
By actively seeking out new inventory and streamlining the appraisal process for both staff and customers, proactive dealerships are creating new efficiencies in sourcing. There are three key ways proactive dealers do inventory management differently: They source smarter, streamline workflow and appraise with customers in mind.
Source Smarter
Many dealers tend to overlook their best source of inventory – their existing customers. But dealers taking a proactive approach to sourcing understand the value in acquiring vehicles from this pool.
To best take advantage of existing customer inventory, sales and service have to be connected, and dealership software can be a great facilitator of that connectivity. When integrated with vAuto Provision, Connect CRM provides real-time inbound service appointment alerts – enabling dealers to make timely offers on customers' vehicles.
Streamline Workflow
Data double entry is a big problem in many dealerships, and inventory management systems are often a part of that problem. Far too frequently, inventory management systems live on an island, completely disconnected from other dealership software platforms like the CRM. When that is the case, dealers are left to reenter customer appraisal information that has already been entered into another software platform – unnecessarily sucking up valuable time from staff.
To streamline your workflow, choose an inventory management system with integrations, such as vAuto Provision, which integrates with Connect CRM. Integrations like these typically streamline workflow beyond eliminating double entry and enable dealers to take a more proactive approach to inventory management. The Connect CRM and vAuto Provision integration, for example, allows dealers to pull data from Connect CRM to match customers to vehicles being appraised and helps dealers make smarter pricing decision based on customer demand.
Appraise with Customers in Mind
Proactive dealers know that when it comes to providing customers with a good experience, every step counts – including appraisals. Today's most successful dealers understand that it is critical to stay connected and transparent with your customer during appraisals, and that technology can play a key role in making that happen.
Mobile technology in particular can enable a better appraisal experience for customers. With Connect Mobile for Connect CRM, salespeople receive a push notification when a customer appraisal is completed. The salespeople can then present this offer to their customers, without ever having to leave their side.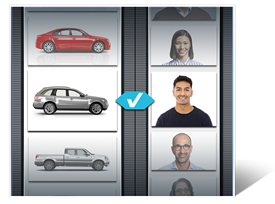 Ready to find out how the integration between Connect CRM and vAuto Provision can create eficiencies at your dealership?
Learn More
A version of this article originally appeared in Auto Dealer Today.