One in three Americans would rather go to the DMV, do their taxes or sit in the middle airplane seat than go through the process of buying a car. Perhaps there was a day when dealerships didn't have to provide a perfect experience to sell a car, but that day has come and passed. Now, 66% of car shoppers are much more likely to buy from a dealership with their preferred experience.

In today's post-peak market, dealerships must adjust to the current business cycle: The Age of the Customer. We're several years into this cycle, which experts estimate will last around 20 years, and yet many dealerships are still struggling to embrace this new mindset and what it means for their business.

The power has shifted from businesses to customers. Today's customers are empowered to do their own research and question the businesses they choose to patronize. For dealers, that means customers often know what they want and the price they want to pay before ever stepping foot in your showroom. Nearly 90% car shoppers research car pricing online, and more than half only test drive one vehicle, according to Cox Automotive's Car Buyer Journey Study.

If customers have a poor experience with your dealership, they'll let their networks know through social media and online reviews, a resource read by 92% of consumers. Customers have more power over a business's reputation than ever before. Does your dealership have the processes in place to accommodate that shift?

Here's a quick checklist to see if your dealership's customer experience is up to the expectations of shoppers in the Age of the Customer.

Are you meeting customers where they are?
Customers today demand to be communicated with on their terms. They expect businesses to be able to communicate with them via text and email, and they expect their communications preferences to be respected. And today's customers won't respond to just anything – messages must be relevant and personal.

One feasible way for dealerships to meet this demand is highly targeted automated marketing. Research from PCG showed that dealers who create highly customized campaigns see much better results than those using a mass-marketing, non-tailored approach.

Are your customers' online and offline experiences connected?
Today's customers spend 60% – nearly nine hours – of the car-buying process online. They expect all the work they've done online, which often includes filling out paperwork and generating trade-in offers, to be recognized once they arrive at your showroom. Unfortunately, at many dealerships, information submitted by customers gets lost in cyberspace.

To connect your customers' online and in-store experiences, you have to ensure that the customer information provided online gets into the hands of the salespeople on the showroom floor. When used correctly, a CRM like Connect CRM can play an important role in creating a process that facilitates a great customer experience by housing all customer data in one place.

Are you making the most of your customers' time?
According to an IHS Automotive study, the amount of time it takes to complete a vehicle purchase is the most common frustration for car buyers, with 41% citing it as a frustration. Wasting your customers' time is one of the best ways to lose them in today's Age of the Customer.

One of the most common reasons dealers take up more of their customers' time than necessary is a lack of software integration. When your software platforms don't speak to each other, you have to ask customers for the same info over and over again, and then enter that info into all your different platforms over and over again. Integration streamlines that process. For example, with Connect CRM, you can schedule your customers' service appointments with one simple click of the Xtime button in your dashboard – no switching to other platforms or data reentry required.

When you can answer "yes" to each of these questions, you'll be on your way to being customer-obsessed and thriving in today's Age of the Customer.

A version of this post originally appeared in DrivingSales.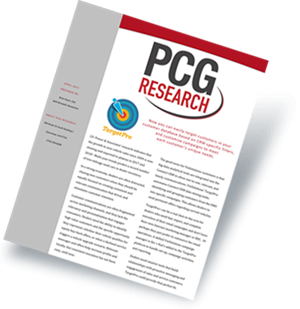 Download the PCG Research Report on TargetPro & learn the benefits of data-backed marketing automation for your dealership.
Download the Report