Most dealers know that service is a huge revenue generator. On average, according to NADA, fixed ops gross profits contribute up to nearly half of a dealership's gross profit. And most dealers know how important customer retention is to their bottom line; customer retention is the primary concern of nearly two-thirds of dealerships, according to research by Cox Automotive brand Xtime.

And yet, most dealers are missing the mark when it comes to capturing service business and retaining customers. Less than one-third of total service visits are conducted at a dealership. Most dealers aren't taking the simple extra steps needed to cement the service relationship with customers. They're failing to realize the impact that proactively building the bridge between service and sales in your dealership can have on a dealership's bottom line.

A Proactive Approach
It's unclear what the immediate future of the market will hold, but the most successful dealers are the ones who refuse to sit around and wait for an opportunity to come up. Today's most successful dealers are proactively taking steps to create opportunities in sales, service and customer experience.

One way to Go Pro is to connect your sales and service departments. By proactively introducing your sales customers to your service department and integrating your dealership software, you'll see increased retention rates that will pay dividends in any market environment.

The Importance of the Introduction
The most powerful, and most often floundered, moment in cultivating a long-term service customer is the time of sale.

Consider this: Customers who are introduced to the service department at the time of purchase are more than twice as likely to return to that dealership for service than those who were not introduced. But less than half of car buyers are introduced to the service department at the time of vehicle purchase!

Making that introduction, and proactively asking for your customers' service business, is a simple but critical step in setting your dealership apart from the competition and building a strong pipeline of service revenue.

The Power of Integration
The number one complaint of dealership customers is the amount of time it takes to purchase a car. More than half of all car buyers are dissatisfied with the amount of time it takes, and customer satisfaction nosedives after 90 minutes in the dealership.

Integrating your dealership software, particularly your CRM and service appointment scheduler can play a huge role in saving time – both for your customers and your staff. VinSolutions Connect CRM's integration with Xtime allows your salespeople to schedule first service appointments with just a few clicks of the Xtime button in Connect CRM, meaning your customers don't have to sit and wait while a salesperson enters their information into another software platform.

This integration also helps your salespeople proactively identify hidden sales opportunities in your service drive. When Connect CRM is integrated with Xtime, your sales team is equipped with powerful data, including real-time alerts based on equity estimates and service history when sales-ready prospects enter your service drive.

The Rewards of Retention
The benefits of proactively building a service relationship with your sales customers extend far beyond the dollars immediately collected from their first service appointment. According to Cox Automotive's 2017 Car Buyer Journey study, buyers who returned to the dealer for service had higher satisfaction with the dealership than those who did not.

That increased satisfaction means an increased likelihood of doing business with your dealership again – both for their next service appointment and their next vehicle.

This post originally appeared in AutoSuccess.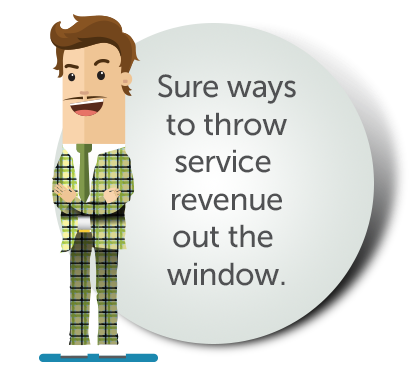 Download our free guide to start identifying what may be going wrong in your service scheduling process.
Download the Guide