Top B-to-B Marketing Association Recognizes VinSolutions White Paper and Training Guide
MISSION, Kansas, Nov. 16, 2017 –VinSolutions, in partnership with marketing agency The Mx Group, has been named an Award of Excellence winner in two categories of the 2017 Association of National Advertisers Business Marketing B2 Awards. VinSolutions was selected from over 500 entries for the annual awards, which recognize top performing business-to-business marketers in a variety of categories.
CRM usage report "How Best-in-Class Dealers Are Making More Customer Connections" was recognized in the B2 Awards' Electronic White Papers category. The report, a partnership with third-party consulting firm DealerKnows, provides data-driven insights that help dealers use their CRM systems more effectively and see better results in their dealerships. The white paper has seen higher than average download rates as the dealer community continues to reference this relevant and educational resource.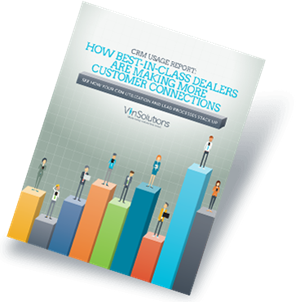 Training guide "VinSolutions CRM University" was recognized as an Award of Excellence winner in the Capabilities Brochure category. The in-depth guide acknowledges the operational disruption that implementing a new CRM can cause, and provides a deep dive into the benefits of a diverse mix of training options.
VinSolutions and The Mx Group have partnered on a number of initiatives designed to inform and educate dealers, including Go Pro.
About VinSolutions
As the provider of Connect CRM, a leading dealership customer relationship management system, VinSolutions helps more than 5,000 dealers make every connection count. VinSolutions products integrate dealership systems, processes and tools to deliver a single view of the customer across the business – so dealers can focus on building relationships throughout the sales cycle. Founded in 2006 and headquartered in Mission, Kansas, VinSolutions fosters dealership success by providing a fully customizable suite of solutions, including equity mining, market pricing and desking tools, combined with the continuous, personal support of a designated Performance Manager. VinSolutions is OEM certified by every major manufacturer and is Autosoft, CDK, Reynolds & Reynolds and Dealertrack DMS certified.
About The Mx Group
The Mx Group is a demand generation and digital agency that empowers companies with the competitive edge of modern B2B marketing. We integrate strategy, technology, marketing operations and sales optimization services to help companies attract, convert and retain customers. For more than 25 years, clients have trusted us to help turn their marketing investments into measurable revenue. The company was recently named one of Chief Marketer's 2016 B2B Top Shops, and has been listed as a top B2B agency by Advertising Age and BtoB Magazine since 2008. In addition, The Mx Group has been selected as one of the Best Places to Work in Illinois every year since 2014 and was named one of Chicago's Best and Brightest Companies to Work For® in 2016. The company is privately owned and located 20 minutes west of Chicago in Burr Ridge, Illinois. For more information, visit TheMxGroup.com or call 800-827-0170.